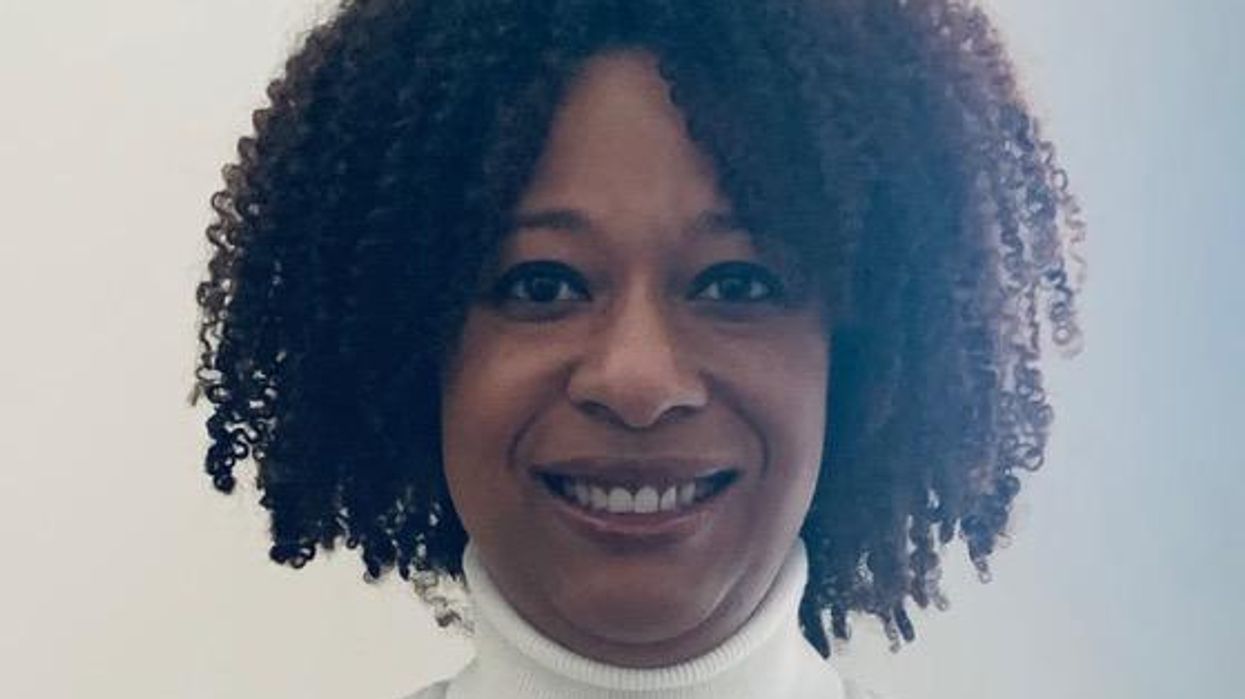 The temperature climbed past 80 degrees as my children and I followed the marked route between historic dwellings in a suburban downtown district just minutes from our home. Their breath grew labored, their pace slowed in the early afternoon heat, and they were thankful for the breaks each time we stopped to listen to a new building's history.
We learned how the basement of a classic 19th-century mansion turned bed-and-breakfast had once been an overnight hiding place for hundreds of enslaved people escaping to freedom. The hip coffee shop everyone loves to visit still hides an underground tunnel that enslaved people used to avoid being spotted in the town's streets. A small cemetery around the corner was the final resting place for enslaved people who died during the journey and some of the town's leading citizens — many of whom were "conductors" on the Underground Railroad.
I asked my sons to imagine how the men, women and children who traveled here more than 150 years ago dealt with the oppressive summer heat or the bitter cold that seeped through their threadbare garments as every step put them in grave danger while simultaneously leading them closer to freedom.
I'd visited Underground Railroad sites before, but taking this tour on June 19, 2021, made the experience all the more poignant. That day marked the first time the United States recognized Juneteenth as a federal holiday, and seeing our neighboring Southwest Ohio community honor its roots as an Underground Railroad town magnified the importance of the holiday.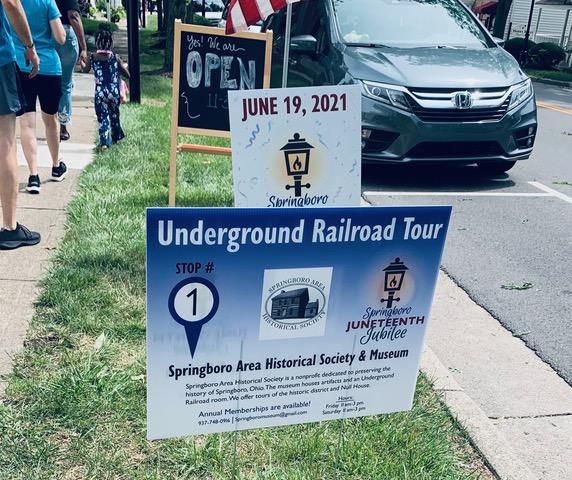 Shannon and sons' first stop on the June 19, 2021, Underground Railroad Tour
We were celebrating the physical freedom of enslaved people just one year after living through the start of the Covid-19 pandemic and witnessing the death of George Floyd at the hands of police. It all served to exacerbate the generational trauma of racism and racial injustice, which can have devastating effects on the physical and mental health of Black women. Many Black mothers in particular have felt the gut-wrenching pain of having their children stolen from them by slavery, lynching and police violence.
As a history buff and lifelong student of Black history, I was familiar with the history of Juneteenth. The name, a blend of the words "June" and "19th," marks June 19, 1865, when Union troops arrived in Galveston, Texas, to tell enslaved people in Texas that they were now free.
Learning about Juneteenth years ago answered many of the lingering questions I had after studying the Civil War. I knew most Black Americans still remained enslaved after the Emancipation Proclamation of 1863, but I wondered if all enslaved people gained their freedom immediately following the Confederacy's surrender in April 1865 that ended the Civil War.
How did the enslaved people find out they were finally free?
My youthful questions were valid. All Black Americans were not freed in April 1865. News didn't reach everyone immediately, and there were many enslavers in states farther west who were perfectly content not to let enslaved people know the Civil War had ended.
That's why Union Maj. Gen. Gordon Granger's arrival in Texas and his delivery of General Order No. 3 on June 19, 1865, was so crucial to American history. The date that would later be celebrated as Juneteenth marked the true end of legalized American slavery, although many instances of enslavement and slave-like labor through sharecropping persisted well into the 20th century.
The former Galveston enslaved people held Juneteenth celebrations the following year, and Juneteenth quickly grew into an important piece of Texas culture. In 1980, that state declared Juneteenth an official state holiday. Other states would follow, and Juneteenth celebrations became regular fixtures of Black community life in many areas.
As a Black woman who lived in the Midwest for most of my life, I appreciated the importance of Juneteenth but never felt a direct connection to the holiday. I'd show my support through "likes" on Facebook photos from Texas friends who hosted Juneteenth cookouts with family and friends or had children marching in Juneteenth parades. I thought it might be nice, one day, to look for a small celebration in Michigan or Ohio and join the festivities.
But the events of 2020 changed everything. The May 2020 death of George Floyd at the hands of police forced the U.S. and the world to address issues of racial inequality and the socioeconomic disparities long faced by many Black Americans. To do so required a more critical look at the uglier parts of American history, like slavery, and the timing was ideal for the activists who'd been working for decades to gain more national recognition for Juneteenth.
The 2020 Juneteenth celebrations across the nation captured national attention, fueled by the urgency of the moment. On June 17, 2021, the president signed a bill into law that made Juneteenth National Independence Day an official federal holiday.
Fueled by the momentum of 2020, a number of communities in my region had already planned Juneteenth events for 2021. I'd made tentative plans to attend one, but when Juneteenth became a national holiday, it solidified my desire to get involved. I felt in my heart that I needed to celebrate.
I wasn't alone in feeling a deeper connection to this important date. Promotions for Juneteenth festivals across the country talked about healing and restoration, and national organizations discussed the importance of cultural identity to one's mental health and well-being.
"Juneteenth is central to Black American mental health and well-being because it's defined by Black humanity and liberation," the American Counseling Association wrote in a blog a few days before the holiday. "It's a part of Black identity formation."
The rain poured the morning of June 19, threatening to cancel the events. But by 11 a.m., the sun broke through the clouds and within an hour, a gorgeous summer day emerged. I told my boys we were going to recognize our first Juneteenth by honoring the ancestors whose bravery had made this day possible. Even though our area had no direct connection to what took place in Texas, slavery affected all Black Americans and American history as a whole.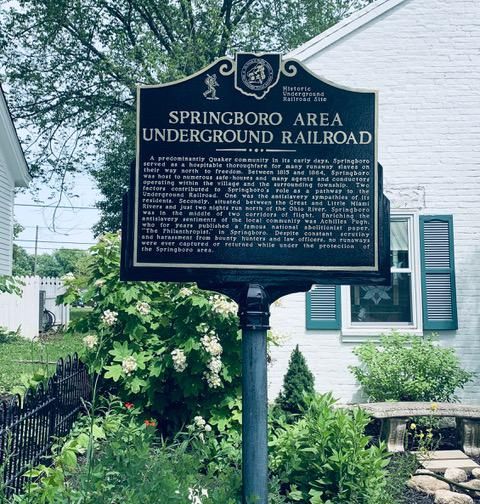 Historical sign marking the significance of Springboro, Ohio, in the abolitionist movement
When we arrived in downtown Springboro, I thought about how often I'd been to the area's boutiques, coffee shops and eateries without knowing the history of the buildings I entered. Sure, there were historical markers mentioning the area's history as an Underground Railroad town, but that history became more real as I heard the stories of how the roads we walked were once traveled by escaping enslaved people in the dark of night, and how those cute buildings were once safe houses where enslaved people faced the very real fear of being returned to slavery or killed.
I was proud to see the many people from all races embracing our state's history as a stop on the path to freedom, even if Ohio wasn't directly connected to the events of Juneteenth. And, I'm grateful that the first federal Juneteenth holiday provided all of us the opportunity to honor those who survived the horrors of slavery and fought for freedom, not only for themselves, but for their children and future descendants.
As an affirmation of Black humanity and dignity, Juneteenth is a time to heal and restore our communities and ourselves. That day, I honored the sacrifices of so many Black mothers, past and present, who fought to give their children a better life. Being present with my own sons as we recognized our ancestors provided a sense of emotional freedom, peace and healing.