While we all have pandemic fatigue, COVID is here to stay for the time being. New variants continue to emerge and cases are spiking across the United States again. Dr. Javeed Siddiqui MD/MPH, Co-Founder and Chief Medical Officer at TeleMed2U tells us, "The SARs-CoV-2 pandemic is far from over. The population is thinking that saying we have moved from the pandemic phase to the endemic phase equates resolution. That is an incorrect perception. A disease is considered endemic when it is regularly found among the populations and is consistently found at a baseline level." He adds, "We are now transitioning out of a valley and heading into another peak. The pandemic is not over!" Although researchers are still learning about COVID, one thing they do know is it affects everyone differently and there are so many symptoms it's hard to keep track. There are several common signs of the virus such as cough, fatigue and body aches, but there's additional symptoms that aren't talked about enough. Eat This, Not That! Health spoke with experts who shared other signs of COVID to be aware of. Read on—and to ensure your health and the health of others, don't miss these Sure Signs You've Already Had COVID.
Bernadette Boden-AlbalaMPH, DrPH Director and Founding Dean, UCI Program in Public Health says, "BA.2 is the dominant COVID strain in the US right now, and we're seeing subtle shifts in the kind of symptoms that appear early in infection. Runny nose is one of them, and it's a symptom we're seeing more of with BA.2 than past variants. Runny nose can easily be mistaken for seasonal allergies, the common cold, the flu, and other ailments. People should be aware of runny nose as a COVID-19 symptom, adhere to current testing guidelinesand practice preventative strategies like masking, physical distancing, and staying home when symptomatic."6254a4d1642c605c54bf1cab17d50f1e
Dr Anna Van Tuyl, MD Interim Associate Chair and Director, Division of Critical Care Department of Emergency Medicine at Staten Island University Hospital says, "This is a concerning symptom and should prompt a visit to an Emergency Department to be evaluated."
Dr. Siddiqui adds, "With omicron, we are seeing fewer patients complaining of shortness of breath. This also is accompanied by fewer patients that are requiring hospitalization. We are not seeing a significant number of patients who are presenting with chest X-rays indicative of COVID pneumonia but patients who have mild cold-like symptoms that are now testing positive for COVID.The change in symptomatology is again related to the change in the genetic makeup of the virus and how the virus interacts with the human immune system. hear that the scientific community doesn't understand what is occurring with the virus. Unfortunately the truth is the virus is continually changing and we are updating the public on the changing dynamics that evolving virus then produces."
Dr. Van Tuyi explains, "If the diarrhea is profuse, you need to be careful to continue to hydrate and avoid dehydration. Diarrhea is more common in the pediatric population but can be dangerous to elderly patients or those with significant comorbidities."
Dr. Boden-Albala states, "Persistent pain or pressure in the chest is a symptom of severe COVID-19 infection that should be taken seriously. People should know that it's a symptom that warrants emergency medical attention. In these cases, the Centers for Disease Control and Prevention recommends calling 911 or calling ahead to your local emergency facility and letting the operator know that you're seeking care for someone who has or may have COVID-19. This is especially relevant for people with pre-existing conditions like cardiovascular disease that are considered high-risk, or people that are unvaccinated and at greater risk of severe COVID."
Dr. Boden-Albala explains, "We use the term "brain fog" to refer to a wide range of cognitive impairments caused by COVID infection, including short-term memory loss, poor attention span and fatigue. In most COVID cases, these symptoms resolve as the body sheds the virus, but people should be aware of the risk of long-COVID. If brain fog – or any other COVID symptoms, for that matter – persist for four or more weeks after initial infection, you may be experiencing ' long COVID.' Brain fog is one of the most common symptoms we see in long-COVID cases, so it's important for people to be aware and call their healthcare provider if symptoms persist."
According to Dr. Boden-Albala, "The vast majority of COVID cases involve mild fever – especially if vaccinated – but people should be aware that temperatures higher than 103℉ could indicate severe infection and thus warrant medical attention. If you have COVID and run a fever, make sure to regularly monitor your temperature while isolating.Call your healthcare provider if your temperature exceeds 103℉ and doesn't go down after taking over the counter (OTC) fever reducers like Advil or Tylenol."
Dr. Boden-Albala says, "Similar to a runny nose, COVID cases can also start with a tickle in your throat, or even a sore throat. These too can easily be dismissed as signs of other ailments, like allergies and the common cold , so it's important that people are aware and exercise caution before assuming that what they have isn't COVID."
Shannyn McCauley, Certified Health Coach with Empower Coaching reveals, "Severe nausea was my first symptom. I didn't suspect at all that I had Covid because I heard from so many people that the main signs were cough, loss of smell/taste, and breathing difficulties. My nausea got worse and worse, to the point I couldn't eat and felt like I was losing weight.That was when I decided to see a doctor.This is something more people should be aware of because many things can cause stomach issues, and people may think they just have ate something that didn't agree with them. Meanwhile, they are still going out and could be spreading the virus."
McCauley shares, "A day after being diagnosed with Covid, I started getting a lot of pain behind my eyes and felt sensitive to light, but not in the same way a headache makes you feel. It seemed a lot more pinpointed to just my eye area, rather than pain throughout my head. This is something more people should be aware of because they may think they just have a headache and go about their day, rather than thinking this could be a sign of Covid and go to get tested."
McCauley explains, "I have mild eczema, I rarely have breakouts. A day after I was diagnosed with Covid, I started having horribly red, itchy breakouts on my inner arms. It took 2 weeks for them to finally start going away. This is something more people should be aware of because skin conditions can be painful and debilitating.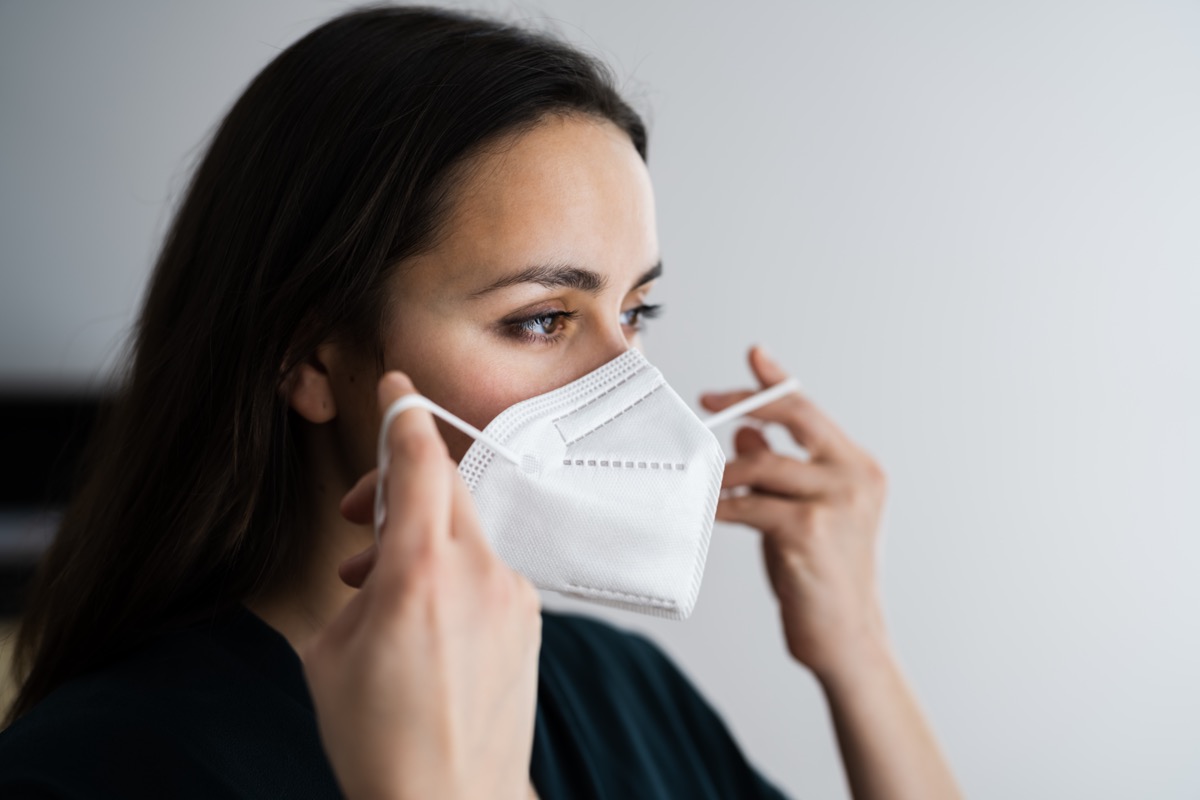 Follow the public health fundamentals and help end this pandemic, no matter where you live—get vaccinated or boosted ASAP; if you live in an area with low vaccination rates, wear an N95 face maskdon't travel, social distance, avoid large crowds, don't go indoors with people you're not sheltering with (especially in bars), practice good hand hygiene, and to protect your life and the lives of others, don' Don't visit any of these 35 Places You're Most Likely to Catch COVID.